Whether for business or residential, our audio visual systems installation service can save you time and money with expert understanding when it comes the installation of audio visual systems.
We have years of experience installing a range of audio visual systems for a number of different applications – commercial, residential as well as educational. Working to a range of budgets and product stipulations, we understand what it takes to deliver a quality audio visual installation.
Business and Corporate
Display projectors for boardrooms, meeting rooms and conference rooms – for presentation and video conferencing.
Control systems for display screens (smart device operated, eg. iPad).
Video conferencing equipment and network integration.
Reception display LCD screens and digital signage for welcoming guests / promotion
Retail and Leisure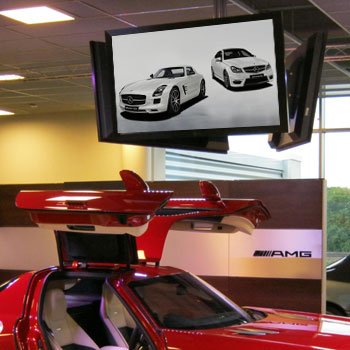 LCD and plasma screen installation for point of sale
Digital Signage and Promotional screens
Interactive displays
Television and network connectivity
Education
Interactive displays and whiteboards for engaging education.
Audio sound systems for sound amplification and audio distribution
Projection and display equipment
Home Entertainment
Installation of Plasma, LCD, LED and projector installations
Multi room Distributed audio, video and HDMI connectivity
Home automation control systems
Home networking
Satellite and Aerials systems
Your Audio Visual Installation
If you have an A/V project coming up and are looking for an audio visual installation company in Hampshire, Berkshire or Surrey, why not contact us today to discuss you needs.