Audio Visual Installation
Mercedes World in Weybridge, Surrey, is a well known location with fun for all the family, and the chance for Mercedes to showcase their cars – past and present and Audio Visual installations throughout the venue play a big part in delivering a media-rich experience to visitors.
Haven been chosen as the working partner of LG Electronics UK, Cre8 AV were instrumental in this commercial A/V project, from the design stage to completion of the installations.
Project Specifications
The task was to update all AV equipment throughout the offices, boardrooms and showrooms as part of a marketing campaign to promote the venue. This included over 100 outdated plasma screen installations and displays running through digital signage systems, which had to be de-commissioned. The displays were replaced with LG's latest screen technology for LCD displays and LED displays.
Video Wall Installation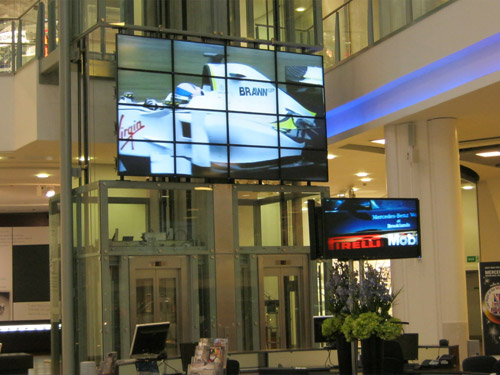 In addition, we completed a video wall installation consisting of 16 x LG M4224 commercial display screens including the design and commission of a bespoke bracket to hold the video wall. The video wall is located in the main entrance area to Mercedes World to maximise branding experience.
120″ Presentation Display
The main boardroom of Mercedes World, which is available for hire, required a state-of-the-art 120″ (3.05m) LG display screen for customers to bring video conferencing calls and presentations to life in true high definition. At the time, this was the only 120" LG screen in use in the UK.
Remote Content Management
All content displayed on the video wall and display screens are individually managed and controlled remotely for ease of use to the user and the new display equipment was linked into existing digital signage systems via internal networking.
In excess of 300,000 people a year visit Mercedes World and now see up-to-date information or current offers in high resolution on sleek looking displays throughout the building.
Press Coverage
This particular audio visual installation project  was featured in national newspapers and A/V trade magazines thought the UK.