Understanding technology and how each individual element integrates is essential for effective audio visual systems design.
At Cre8 AV we have the experience and understanding in a range of sectors. We will help you maximise your budget so you end up with an audio visual system design that exceeds your expectations, delivering a quality solution.
Understanding The Solution
The key to delivering the most appropriate audio visual system design, is to understand your requirement. Our A/V consultants take the time to understand what is the most important aspect of your project.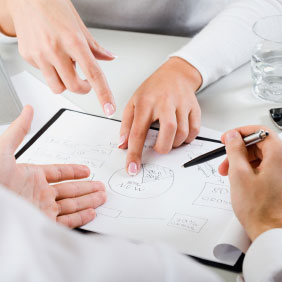 Application – What you need your audio visual system to deliver is the starting point for any new project. Whether it's a project for the home, classroom, or a business application, knowing what your expectations are will drive our audio visual system design.
Environment – Where will your product will be used? Different a/v products are used in different environments depending on light and sound requirements. This will may affect positioning of products, as well as the actual products we spec for the project.
Products – Whether you have products in mind, or need advice, we will design your audio visual system to take your preferences into account.
Integration – Many technologies work together seamlessly, but some work together better than others. We are manufacturer-independent so will specify the right audio visual products for your project for ease-of-use and effective delivery.
Budget – Central to most commercial projects, the amount you'd like to spend to get the audio visual solution you need is a big factor. Like all technology, audio visual equipment usually has a life cycle, so we can help ascertain the best use of your budget.
Your Audio Visual Design Project
If you have an upcoming audio visual project and need design advice, or help planning your A/V installation, why not contact us today for some impartial advice?